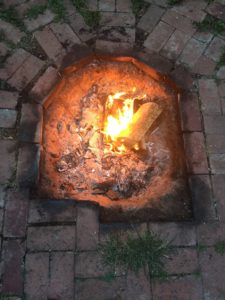 Proposed Storytelling Fires (Virtual or in Person or even both):
Week 1:  What is story?  The layers of our world of story.  "La Loba", "The Three Fates", "The Mistress of Fire", the layers of stories obstetrical stories, somatic story.  Our own birth stories.  Deeper levels of story.  Storytelling as counselor.
Week 2: Intuition and listening "The First Tree that Spoke" and "Vasalisa the Brave", skills for developing intuition and listening using story. How do we learn intuition and listen to ourselves and to the birth and body?
Week 3: The nervous system: paths to understanding fight flight freeze "Medusa", "Girl with the Hair of Gold"  somatic story
Week 4: Healing history and restorative justice in birth work, history of the birthwork including grand midwives, witch trials, Historian as Currendera (Aurora Morales), "la mera mera: the jealous girls and the lake", maybe Corpse Bride", "Massacre of the Dreamers", legacy of birthwork, ancestral healing. Wings of a birth worker (art)
Week 5: Birth worker as translator, a guide to the underworld and messenger from soul world to upper world "Sealskin, Soulskin" / maybe the "Lindworm"
Week 6: Transformation: "Crescent Moon Bear" as neuroplasticity or reworking our patterning and probably not Innana…. but maybe with a heartbeat of Innana of the drum as hers.
Week 7: Close – Postpartum "Skeleton Woman", restoration and somatic release, exiting the labyrinth of birth.
We will be filming and recording much of this class. Please contact us if there is something that arises about the sharing. However, this is a process-based community-building film project/workshop/lecture/ fiction/ art process / journaling process contribution and the intention is to compile lots of this work (some to be used and some to be stored in a gallery / repository). If you don't want to share or be recorded, I would suggest taking the class another time. 
Storytelling BWJ Photo Release
 to be signed.
Sunday evenings, 6:30-9:30p
Dates to be determined.
REGISTER HERE (coming soon!)